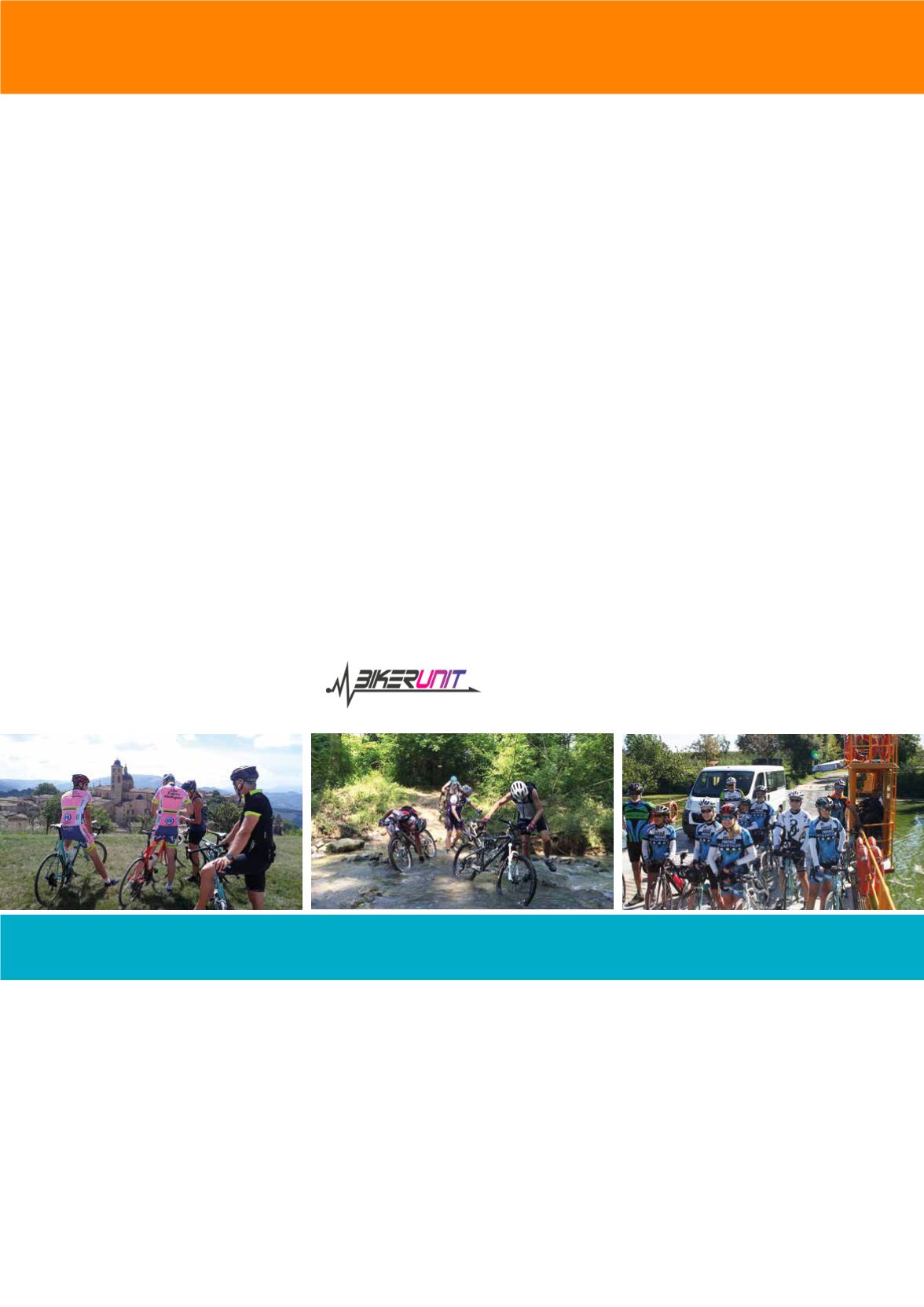 E AVVENTURE SU DUE RUOTE!
Prestiamo la massima attenzione alla creazione
di gruppi omogenei per offrirti una vacanza su misura.
Scegli il tuo gruppo!
We are always looking for exciting new cycling routes and pay great
attention to the creation of equal-ability groups.
For Spring 2017 we offer you a tailor-made holiday!
Choose your group:
DOLCEVITA TOUR
30-50 Km – velocità media 12-18 km /h.
Percorsi facili, pedalando in tranquillità, a spasso tra borghi e castelli con
soste per degustazione di prodotti tipici.
PIANO E LONTANO TOUR
70-90 Km - – velocità media 18-22 km /h.
Percorsi medio/lunghi tra verdi colline e luoghi storici, con piacevoli soste
in allegria, per una foto e un cappuccino.
ROAD TOUR
90-130 Km – velocità media 22-28 km /h.
Percorsi per ciclisti con una buona preparazione, che vogliono fare più
km e scalare le colline più impegnative di Marche e Romagna. Ideale per
ADVENTURE TOUR (min. 6 persone)
Un'esperienza unica in bicicletta. Durante il tuo soggiorno all'hotel
Alexander potrai scegliere uno dei tre percorsi esclusivi per una nuo-
va avventura: Comacchio, Gubbio e Conero.
Pensiamo a tutto noi!!!
Ogni tour dura 2 giorni, con un pernotta-
mento e una cena tipica. Sarai accompagnato dalla nostra guida e da
un van per trasporto bagagli e assistenza.
Misura la tua performance
Biker Unit
potrai fare al tuo arrivo in hotel un test
medico–sportivo di valutazione antropometrica e cardiorespiratoria, con
un piano di preparazione sportiva e nutrizionale.
IMPORTANTE:
prenota il test prima del tuo arrivo.
BICI DA STRADA E MTB 2017:
7 notti (8 giorni) in Super Mezza Pensione (prima colazione , pranzo a
buffet , cena à la carte) in camera doppia con balcone vista mare.
FORMULA STANDARD
marzo/ aprile/ settembre:
maggio/ giugno:
luglio/ agosto:
FORMULA SUPERIOR
marzo/ aprile/ settembre:
maggio/ giugno:
luglio/ agosto:
ROAD BIKE ANDMTB 2017:
7 nights ( 8 days) in Super Half board ( hearty breakfast, buffet lunch,
dinner à la carte) Double room- with sea view balcony.
STANDARD PACKAGE
March – April – September:
May – June:
July -August:
SUPERIOR PACKAGE:
March – April – Septembe:
May – June:
July -August:
DOLCEVITA TOUR
30-50 Km – velocità media 12-18 km /h.
Easy tracks and easy cycling, ride through villages and castles with stops
for tasting of local products.
SLOWAND STEADY TOUR
70-90 Km – average speed 18-22 km / h.
Medium / long distances. Enjoy a new experience, ride through green
hills and historical sites, with pleasant photo and cappuccino breaks.
ROAD TOUR
90-130 km - average speed 22-28 km / h.
Rides for well trained cyclists who want to ride further and climb the
challenging hills of Marche and Romagna . Ideal for training.
ADVENTURE TOUR (min. 6 people)
A unique cycling experience. Have a new adventure during your stay
at the Alexander by choosing one of three exclusive tours: Comacchio,
We will think about everything!!!
Each tour lasts two days and includes
an overnight and a typical dinner.
You will be accompanied by our guide and our support van will transfer
your luggage and offer assistance needed.
Test your performance!
Biker Unit,
you will have the option to make
anthropometric and cardio respiratory evaluation tests, together with
athletic and nutritional plans. All on arrival at the hotel.
IMPORTANT:
please book the test before your arrival.
IF YOU BOOK YOUR BIKE HOLIDAY
SCONTO
10%
DISCOUNT
10%