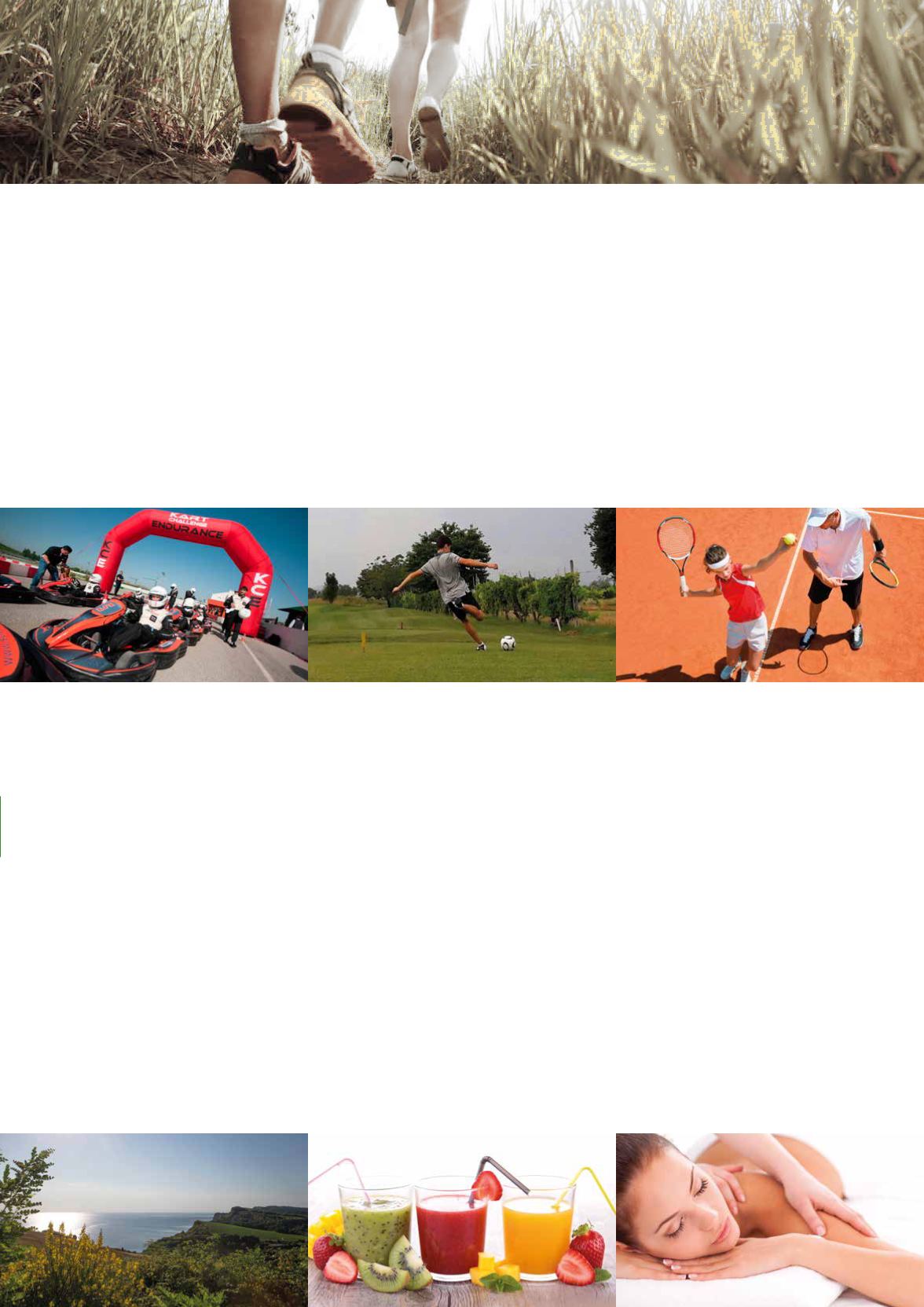 GO KART!
Accarezza l'asfalto dei campioni e sfida i tuoi amici nella pista kart del
Misano World Circuit Marco Simoncelli
FOOT GOLF
Una nuova entusiasmante disciplina sportiva per tutta la famiglia!
Riviera Golf
apre il suo percorso nove buche executive alla nuova
pratica sportiva che unisce la ricerca tecnica del Golf alla passione
per il pallone. Uno sport di precisione che si gioca in squadre di max. 4
persone. Siete pronti per la grande sfida???
TENNIS PASSION
Gli amanti del tennis potranno trascorrere le loro giornate al
Circolo
Tennis Maresia
con 4 campi (2 in terra rossa, 2 in sintetico) a soli 20 mt
dal nostro hotel. Maestri a disposizione per fornire lezioni a chi intende
muovere i primi passi sulla terra rossa; i giocatori esperti potranno
sfidarsi in appassionanti game.
GO KART!
Brush the asphalt of the champions and challenge your friends at the
kart track located at the
Misano World Circuit of Marco Simoncelli
the late Italian professional motorcycle racer born nearby in Cattolica.
FOOT GOLF
The new sport for the whole family in which players kick a soccer ball
into a cup in as few shots as possible!
Riviera Golf
opens its new 9 holes Executive course to the sport
that combines the technical research of golf with the passion for the
football. A precision sport played in teams of max. 4 people.
Are you ready for the challenge ???
TENNIS PASSION
If you are passionate about tennis we suggest to you the T
ennis Club
Maresia
. It has 4 tennis courts (2 clay, 2 synthetic) and it is located just
20 meters from the hotel. A professional coach can provide lessons, give
advice, or match you with players of a similar level.
ALLA SCOPERTA DEL PARCO
NATURALE DEL SAN BARTOLO
San Bartolo
è uno scrigno pieno di straordinari gioielli, che racchiude
ambienti naturali di grande suggestione, oltre ad un importante patri-
monio storico, culturale ed archeologico.
Camminare per il Parco è un'esperienza che coinvolge in maniera tota-
lizzante, catturando l'attenzione di chi lo attraversa con le sue vedute, i
profumi e i suoni della natura.
I sentieri, immersi nel verde, conducono attraverso paesaggi che alter-
nano vedute costiere, boschive e rurali, regalando di tanto in tanto uno
sguardo sui tempi che furono.
CONCENTRATI DI BENESSERE
Al bar dell'hotel troverete un angolo dedicato interamente alla natura
dove potrete gustare estratti deliziosi, macedonie gustose, frullati e cen-
trifugati di frutta fresca e tropicale.
RELAX
Per una giornata di totale relax potete affidarvi alle mani esperte della
nostra massaggiatrice certificata che vi proporrà un'ampia gamma di
massaggi utilizzando esclusivamente prodotti naturali.
DISCOVER THE SAN BARTOLO
NATURAL PARK
San Bartolo
is a treasure chest full of natural wonders,
packed with great beauty and an important historical, cultural
and archaeological heritage.
Walking in the park is an experience that involves all the senses: it cap-
tures the attention with its sights, the scent and the sound of nature.
WELLNESS MIXTURE
At the bar you will find a corner devoted entirely to nature including:
delicious juices, tasty fruit salads, smoothies and blended fresh
RELAXATION
For a day of total relaxation you can rely on the expert hands of our cer-
tified masseuse. She will offer you a wide range of personalized massag-
es with only natural products.
Tante idee e attività per vivere una vacanza all'insegna dello sport e del benessere!
Activities to enjoy during your sport and wellness holiday at Hotel Alexander!!!