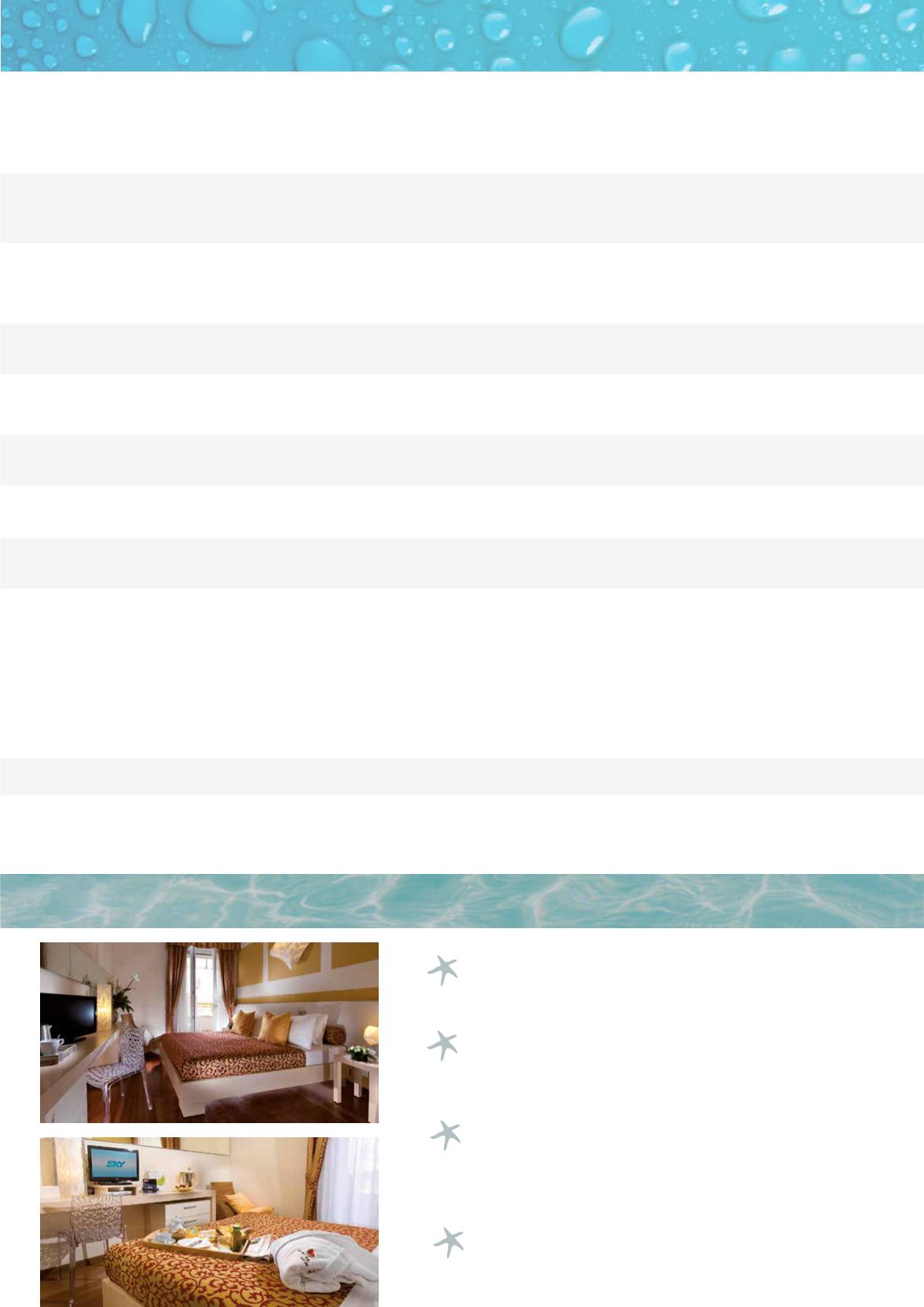 LE OFFERTE 2017
PASQUA INSIEME A NOI!
Potrete scegliere un soggiorno di 2 o 3 notti in camera doppia (Smeraldo), trattamento di
Mezza pensione, pranzo di Pasqua con tante sorprese.
2 notti (3 giorni) € 150, 00 a persona
3 notti (4 giorni) € 210,00 a persona
MAMMA E BIMBO . . . (ma anche papà o nonni)
Nei mesi di aprile, maggio e dal 11 settembre.
Un adulto ed un bambino fino a 6 anni: paga solo l'adulto con il supplemento singola,
mentre il bambino è gratis.
SPECIALE FAMIGLIA (dal 01/06/2017 al 18/06/2017)
Una settimana in mezza pensione in Family room + servizio spiaggia: 1 ombrellone + 2
lettini (escluse le prime 2 file) all'Alexander Beach – Bagni 42/43
2 adulti +1 bambino = € 1.540,00 per tutta la famiglia
2 adulti + 2 bambini = € 1.680,00 per tutta la famiglia
WEEKEND LUNGO IN BB (Camera Zaffiro)
Nei mesi di aprile (ad esclusione di Pasqua) e maggio,
prenoti 3 notti e ne paghi
solo 2!
VACANZA LUNGA
14 giorni ne pagate 13.
21 giorni ne pagate 19.
OPERAZIONE AMICIZIA
Se negli ultimi 10 anni siete tornati all'Hotel Alexander almeno
6 volte avrete uno scon-
to del 10%.
SINGLE?
una settimana inmezza pensione senza applicare il supplemento
singola
nei mesi di aprile, maggio e dal 11 al 30 settembre.
L'UNIONE FA LA FORZA
10 persone adulte sconto speciale del 10%
maggio, giugno e dal 11 settembre.
PRESENTACI UN AMICO
Se consigli l'Hotel Alexander ai tuoi Amici
che ancora non sono stati da noi, avrete
Per te:
un giorno di vacanza gratuita (esclusi i supplementi all inclusive e tassa di soggior-
no) per ogni nuova prenotazione .
Per i tuoi Amici:
al loro arrivo una bottiglia di spumante ed un cesto di frutta con i com-
plimenti a tuo nome e dell'Hotel (offerta valida per un soggiorno di minimo 7 giorni).
IMPORTANTE: Segnalaci al momento della prenotazione il nominativo dei tuoi
amici!
PRENOTAZIONE ANTICIPATA "VACANZA FORTUNATA"
Se prenoti la tua vacanza
60 giorni prima dell'arrivo
sconto del 5%.
Note:
: Le offerte speciali o gli sconti non sono cumulabili fra loro.
Le facilitazioni sono valide esclusivamente per un periodo di vacanza di almeno 7
giorni.
EASTERWITH US!
Book your stay of 2 or 3 days and celebrate Easter with us!
We offer you a double room (Smeraldo) with all comfort and sea view balcon in half
board. Easter Lunch will features lots of surprise.
2 nights (3 days) Euro 150,00 per person
3 nights (4 days) Euro 210,00 per person
Specialmother andchild . . .
In themonths of April, May and from11th September :
One adult + one child under 6: a child under 6 is free, even if sleeping in roomwith only
SPECIAL FAMILY Offer valid from 01/06 to 18/06/2017
One week in half board in Family Room -2 communicating rooms
2 Adult + 1 Child = € 1.540,00 for the whole family
2 Adult + 2 Children = € 1.680,00 for the whole family
SPECIAL LONG B&BWEEKEND (ZAFFIRO ROOM)
if you stay 3 nights, you pay for only 2!
SPECIAL LONG HOLIDAY 2017
and you will pay only 13
and you will pay only 19
LOYALTY OFFER
If you have chosen Hotel Alexander at least
6 times in the last 10 years, we are deli-
ghted to offer you a 10%discount.
ARE YOU SINGLE?
We can offer you a week in half board without applying the single room supplement in
11th to 30th September 2017.
GROUP DISCOUNT 2017
10%discount to groups of at least 10 adults.
and from 11th September 2017.
INTRODUCE US TO YOUR FRIENDS
If you recommend Hotel Alexander to your friends
who visit us for the fi rst time,
there's a nice surprise waiting for you !
For you:
1 day free for every new booking (except all inclusive supplement and city tax)
For your friends:
upon arrival, a bottle of sparkling wine and a basket of fresh fruit with
your compliments and with the compliments of the management.
IMPORTANT: Please let us know the name of your friends when youmake
your reservation.
EARLY BOOKING
If you book your Summer holiday
60 days in advance
5%discount.
Notes:
Special offers or discounts cannot be used in conjunction with one anoth-
er. The discounts are valid only for stays of at least 7 days.
SMERALDO
Comfortable and quiet for guests looking
for relaxation and convenient prices.
With lateral sea view balcony, satellite
TV, safe,
hair dryer, air conditioning, courtesy
service and afternoon room tidying.
ZAFFIRO
Larger than the Smeraldo room it features all the same services and offers a sea
view balcony.
This room offers a basket of fresh fruit on arrival, a
soft towel for
the swimming pool and a tea and coffee maker.
The minibar drinks are included in the price.
DIAMANTE
Absolute comfort, soundproofed room, and lots of exclusive services
holiday full of pleasures: a bottle of Prosecco and a basket of fresh fruit on arrival,
favorite newspaper every morning, a soft bathrobe, a towel for the swimming pool,
breakfast service in room, satellite Tv, scales, e- bike with pedal assistance availa-
minibar drinks are included in the hotel price;
FAMILY ROOM
It is the ideal solution for the family, with 2 independent rooms connected by a
communicating door,
to meet all your needs. Balcony with lateral sea view and all
the comforts of the Smeraldo room.
OUR OFFERS 2017