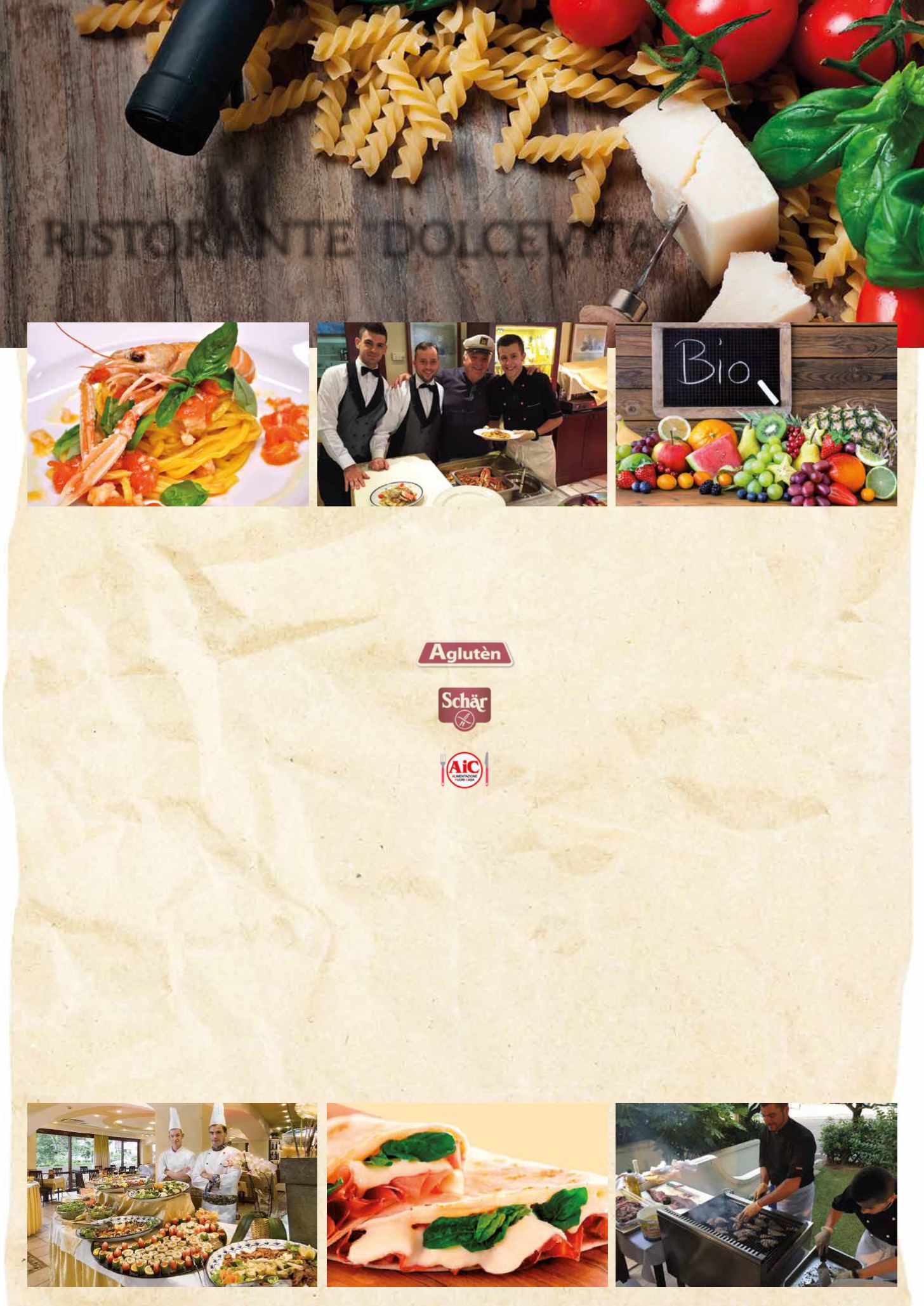 Per offrirvi una libertà di scelta a 360° abbiamo
deciso di apportare alcune modifiche al nostro ristoran-
te per fornirvi un servizio efficiente e di qualità.
Un'esperienza che coinvolge tutti 5 i sensi.
Alla regia il nostro chef Francesco interpreta una cucina leggera
con ingredienti genuini e cotture veloci. Sotto la sua guida uno staff
preparato e motivato propone ogni giorno piatti creativi legati alla
tradizione e golose specialità. Tanta verdura e frutta fresca di sta-
gione, olio di oliva extravergine, carne e pesce di prima qualità.
A PRANZO
un servizio informale e flessibile;
LUNCH BUFFET in sala ristorante:
con una vasta scelta di anti-
pasti caldi e freddi, verdure di stagione, primi piatti serviti al tavolo,
(Dalle 12,30 alle 14,00)
LIGHT LUNCH A BORDO PISCINA
:
insalatone fantasia, prosciutto
e melone, piadine farcite, caprese, insalata di riso, pasta alla cruda-
iola, frutta fresca, dolci e gelati.
(Dalle 13,00 alle 15,00)
A CENA
un ricco buffet di verdure, formaggi e salumi.
Il menù à la carte propone piatti tipici della nostra tradizione e della
migliore cucina italiana.
Una gioia per gli occhi e piacere per il palato!
Per i nostri clienti celiaci abbiamo ideato un menù
GLUTEN FREE.
7 anni
AIC (Associazione Italiana Celia-
chia)
, abbiamo creato una cucina attenta e rigorosa nella prepara-
A COLAZIONE
un angolo gluten free ricco di prodotti di prima qua-
Schär
Agluten
A PRANZO
uno spazio riservato a voi con un'ampia varietà di piatti
e primi serviti al tavolo.
A CENA
un menù à la carte dove potrete scegliere fra tre proposte
di carne, pesce e vegetariana.
Dite addio ad ogni rinuncia!!!
Each year, we develop Restaurant "Dolcevita" so that
we provide youwith total freedomof choice, top-quali-
ty service and relaxed environment.
An experience that involves all five senses.
The kitchen is under the direction of our chef Francesco who specialis-
es in his own brand of varied cuisine made with local ingredients.
Under his leadership, a well trained, friendly and motivated team of-
fers tasty, creative and traditional specialties. Everyday you will find: fresh
fruit and vegetables, extra virgin olive oil, top- quality meat and fish.
LUNCH CHOICE:
an informal and flexible service;
LUNCH BUFFET at the restaurant:
a large selection of hot and
cold appetizers, seasonal vegetables, meat and fish; pasta dishes
served at the table, alongside pastries and fresh fruit.
(From 12.30 pm to 2.00 pm)
Light lunch by the pool
:
fantasy salads, ham and melon, filled
piadina, caprese, rice salad, "crudaiola" pasta, fresh fruit, pastries
(From 01.00 pm to 03.00 pm)
DINNER à la carte
to the delight of eyes and the pleasure for the
palate! You will enjoy a rich buffet of vegetables, cheeses, cold meats
and fish. A choice of traditional pastas, followed by meat or fish or
vegetarian main dishes, all typical to the best Italian cuisine tradition.
GLUTEN FREE
menu to accomodate guests with
celiac disease and any who stick to a gluten-free diet.
7 years
, we have been certified by the
Italian Celiac Associa-
tion (AIC).
We have a rigorous and careful process for the preparation
of every single dish on the menu.
AT BREAKFAST
a gluten free corner rich in the best quality products
Schär
Agluten
AT LUNCH
a gluten-free section of the buffet with a variety of fresh
dishes and first courses served at the table.
DINNER
a 3 section menu offering gluten -free vegetarian, fish and
Please let us know if you have any other intollrances or dietary require-
ments. We will be delighted to accomodate you.
Albergo informato sulla celiachia
Hotel informed on celiac disease