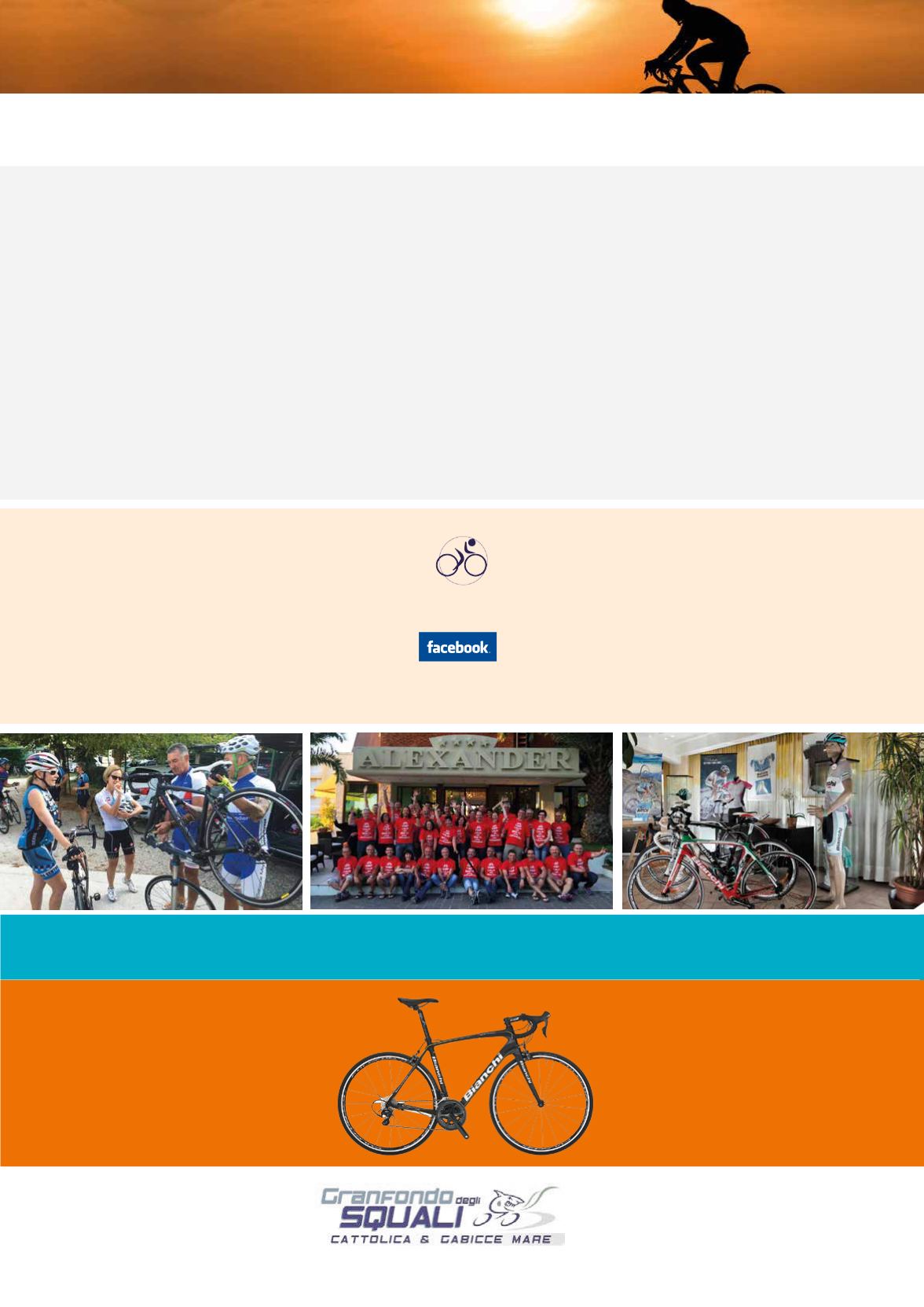 Per noi la passione per la bici è una cosa seria!
Scoprite come vivere più di una semplice vacanza su due ruote..
Our passion for cycling is a serious matter! We offer you eveything
you need for an unforgettable holiday on two wheels...
• Aperitivo su due ruote: il Bike manager, ogni giorno a disposizione,
vi presenterà i bike tour video e foto;
• Consegna della T -shirt
"Keep calm and BIKE to Hotel Alexander"
80 biciclette
dotato di video sorveglianza
e angolo officina attrezzata per le piccole riparazioni;
• 20 nuovi percorsi dettagliati per cicloturismo da strada con cartina e road book;
• Servizio di lavanderia per l' abbigliamento tecnico e asciugatura scarpe in caso di pioggia;
• Piscina e idromassaggio riscaldati;
• Banane e acqua minerale per le vostre uscite in bicicletta;
• Pranzo a buffet fino alle ore 16.00 al ritorno dai tour in bicicletta con antipasti caldi
e freddi, primi piatti, verdure, insalate, dolci e frutta fresca;
• Cena à la carte con 3 menù a scelta (pesce, carne e vegetariano)
e ampio buffet di antipasti caldi e freddi;
• Ogni mercoledì degustazione di olio, vino e prodotti tipici alla
Tenuta del Monsignore
(a soli 5 km dall'hotel);
• Wifi gratuito in tutta la struttura... anche in camera.
• Convenzione con negozi di biciclette specializzati
• Welcome drink and presentation of the bike itineraries by the Bike Manager,
who is at your disposal every day;
• A gift of your very own
"Keep calm and BIKE to Hotel Alexander
80 bicycles,
with a well-equipped workshop and an area for
• 20 detailed road-biking routes, and a detailed Road Book;
• Laundry service for your biking kit, plus shoe-drying in case of rain;
•Heated pool with hydro massage;
• Bananas and water for your rides;
• On your return from your bike tours, a grand buffet of hors d'oeuvres, deli-
cious hot dishes, salad, pasta, sweets and fruit, served until 4 p.m.;
• Dinner à la carte with a 3 choice menu (fish, meat, vegetarian) and hors d'oeu-
• Every Wednesday, oil, wine and cheese sampling (in the afternoon),
Tenuta del Monsignore
(only 5 km from the hotel);
• Partnership with qualified bike shops;
Servizi Superior
Oltre ad avere tutti i servizi STANDARD:
5 uscite
settimanali insieme a guide esperte in gruppi
1
0/12 persone
suddivisi in base al livello e alla distanza;
• Un meccanico esperto è a disposizione
per assistenza e piccole riparazioni;
• Servizio transfer dalla stazione di Cattolica, Rimini
o Pesaro e dall' Aeroporto di Rimini;
• Zona fitness e sauna a disposizione;
• Integratori salini a disposizione;
• Acqua minerale e vino locale durante i pasti;
• Bevande analcoliche del minibar in camera;
Superior Services
As well as the STANDARD services:
5 bike tours
10/12 people
• Our expert mechanic will be at your disposal for assistance
• Transfer service from Cattolica, Rimini or Pesaro railway station
• Fitness corner and sauna;
• Saline intergrators for your biking;
• Mineral water and local wine at dinner;
• Mineral water and soft drinks at Minibar in the room;
SPECIALE ACCOMPAGNATORI
SCONTO
10%
DISCOUNT
10%
NOLEGGIAQUI
LA TUA BICI!
Da noi hai la possibilità di noleggiare una bici pro-
BIANCHI.
Se hai scelto un volo low cost ti offriamo gratu-
itamente il transfer dall'areoporto o stazione di
Rimini per rendere la tua vacanza più rilassante!
Visita il sito
e
visiona la scheda tecnica.
RENT HERE
YOUR BIKE!!!
BIANCHI
If you have chosen an economy flight
we offer you a free transfer service from Rimini
railway station or airport in order to make
your holiday more relaxing!
Visit
and check the technical file.
SPECIAL ACCOMPANYING GUESTS
alexanderbikehotel.blogspot.it
Hotel Alexander Bike Team
GRANFONDO
DEGLI SQUALI
DOMENICA 14 MAGGIO 2017
Ti regaliamo l'iscrizione
e la partenza in griglia di merito!!!
GRANFONDO
DEGLI SQUALI
SUNDAY, MAY 14, 2017
We can offer you registration
fo the race in a good position!!!