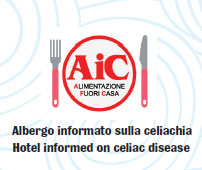 We are always very sensitive to the needs of our guests, because your well being is our top priority!!

Since 2010 we have been certified by the Italian Celiac Association(AIC). We have a rigorous and careful process for the preparation of every single dish on the menu.

For this reason, our head chef Francesco has participated in a series of courses organized by the Marche Region on celiac disease, so that now, everybody, even who is intolerant to gluten can finally spend a serene holiday!! 
AT BREAKFAST a gluten free corner rich in he best quality products distributed by Schär and Agluten.
AT LUNCH a gluten-free section of he buffet with a variety of fresh dishes and first courses served at the table.
AT DINNER a 3 section menu offering gluten -free vegetarian, fish and meat choices.
We take care of you
In the kitchen we have created a specific area for the preparation of gluten-free food.
We have selected a wide range of high quality products.
On the breakfast buffet we have created a gluten-free corner.
Our head chef Francesco has conceived a varied menu for gluten intolerance, which will meet the requirements even of the most demanding guests.


Please let us know if you have any other intollrances or dietary requirements.
We will be delighted to accomodate you.